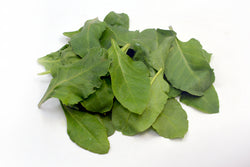 Spinach , Baby
These rich, green leaves with tender, edible stems are delicate enough to eat raw in salads but hardy enough to be cooked, and can be sauteed or stir-fried, or simmered in sauces, soups and stews.

There's no trimming or prep required and tender baby spinach has one of the shortest cooking times of all vegetables.

The flavor of baby spinach is also much milder than that of mature bunched spinach.
Note: Images are only for illustrative purposes, actual product and colour may slightly differ.
Baby spinach is an extremely versatile ingredient. Use it to make a raw baby spinach sandwich, baby spinach shots, serve sauteed baby spinach as a side dish, baby spinach in green smoothies, make a baby spinach-based salad rather than a lettuce based one, add baby spinach to scrambled eggs and omelettes, sneak it into savory bread doughs, use it as a pizza topping and in pasta dishes, create a spinach-based serving bed for grilled fish or meat, or add it to dips for extra color and nutrients.