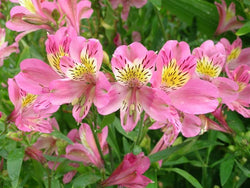 Alstroemeria Pink
Alstroemeria are also known as Peruvian Lily and Lily of the Incas, they are actually more closely related to Amaryllis than they are to true lilies. They grow wild in the mountains of South America but cultivated varieties are available year-round. 

From pure white, blushing pink, or pale apricot to deep magenta, bright red, or vibrant yellow alstroemeria are an indispensable addition to any floral arrangement. Their petite lily-shaped blossoms perfectly complement larger, more dramatic flowers like roses and gerberas, subtly adding color or boldly attracting attention.

With softly shaded petals streaked with darker hues they also stand on their own, unlike many other cut flowers which need a companion to add contrast.

While alstroemeria's flowers attract all the attention, it's their leaves that give them meaning. Alstroemeria's spiral growth pattern turns the leaves upside down to face the sun.

The slightly opened buds that are just beginning to show color will begin to bloom over days with new flowers opening as earlier blooms fade.
They're long lasting cut flowers that will stay fresh for 6 to 8 days.
Note: Images are only for illustrative purposes, actual product and colour may slightly differ.