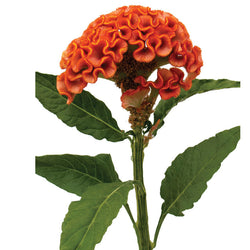 Celosia Orange
Celosia Yellow have electric deep lemon blooms, nice thin stems, blooms are a perfect fan shapes and gorgeous multidimensional flowers. A winner!

For vibrant color and intriguing texture and shape, nothing beats celosia. Neon colors, velvet texture, and wavy convolutions of form make crested cockscomb a standout among cut flowers. The flower heads of crested celosia, have an undulating, dense arching habit that mimics the topknot of a rooster.

Also called Cockscomb, Celosia cristata are a diverse flower suitable for traditional arrangements. They make a great cut flower qualities and interesting range of colours. Since celosia is easily dried, all varieties can be used to beautiful effect in permanent botanical bouquets or those that mix fresh and dried products.

Has a vase life of 6 to 8 days.
Note: Images are only for illustrative purposes, actual product and colour may slightly differ.