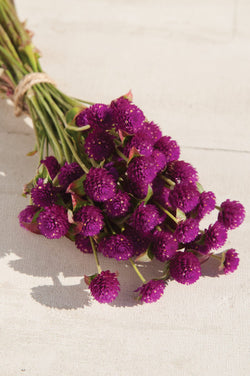 Gomphrena - Purple
Gomphrena is beautiful and long lasting cut flower either fresh or dried for arrangements. Stems are just a foot tall and each tiny bloom measures about 1 inch in diameter, so best for smaller arrangements.
Adorable button like pastel coloured blossoms that look great in a vase. This mix of red and pink is perfect for understated and romantic floral designs.
The small globular flower heads are composed of papery petals which dry very nicely for both dried everlasting cut flowers and potpourri. To dry blooms, remove foliage, bunch loosely and hang upside down in a cool airy place.
Has a fresh vase life of 12 to 15 days.
Note: Images are only for illustrative purposes, actual product and colour may slightly differ.