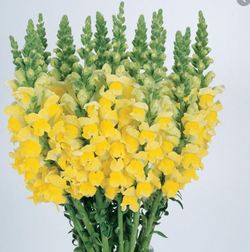 Snapdragon Yellow
Do you love flowers with vertical blooms that reach up long sturdy stems? Ruffled clusters of blossoms that pair perfectly with any gathering of flowers?

We offer affordable snapdragon flowers. Snapdragons offer the hip look of natural wildflowers with the elegance that measures up to many of the more classic flower options. 

These blooms are a great way to blend those two themes together while also creating flower bouquets and centerpieces with plenty of volume, texture and character. Snapdragons flowers add a special touch into table centerpieces and home decor floral arrangements.

Snapdragons come in several lovely colors and our selection of these eye-catching flowers includes a range of colors to meet any decor needs. 

Special Care Note: Snaps will curve towards light and can curve with gravity if they are stored at an angle, so keep'em upright.
Has a vase life of 8 to 10 days.
Note: Images are only for illustrative purposes, actual product and colour may slightly differ.