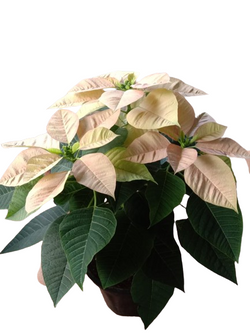 Christmas Poinsettia Plant - Pink
Poinsettias need soil within an optimum ph range of 5.8 to 6.2

Poinsettias don't like a lot of water. Always remember that the plant's root bale should neither dry out nor be drenched. Overwatering can quickly lead to waterlogging, which in turn causes root rot and leaves you with a dead houseplant.

You should water your poinsettia plant when the soil is noticeably dry. This could be every day in the case of a plant near a radiator in a dry room, or only every second or third day in other spots. How to check? Carefully lift up the plant; if it feels light, it's time to water.

Sufficient light is important for the plant to grow and thrive (poinsettias prefer a light spot rather than full shade). The usual advice is to keep plants out of direct sunlight to protect their leaves from burning.
Note: Images are only for illustrative purposes, actual product and colour may slightly differ.