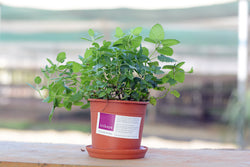 Mint Live Plant Assorted - Ceramic Potted
A mix of our apple,cologne,spearmint etc.
Very versatile herb used in many savoury and sweet preparations.Use for drinks,dips,sauces,marinades,curries and confectionery.
‍
Place Pot in sunny or bright place
Water the plant every alternate day with half a cup(125ml)of water.Do not over water.
Harvest often to encourage growth.
Trim dead branches periodically.
‍
Note: Images are only for illustrative purposes, actual product and colour may slightly differ.