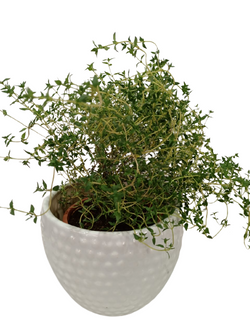 Thyme Live Plant- Ceramic Potted
Native to the mediterranean, Thyme is indispensable in the kitchen, especially in french coising. This all purpose herb is widely used for its aromatic properties.
Place Pot in sunny or bright place
Water the plant every alternate day with half a cup(125ml)of water.Do not over water.
Harvest often to encourage growth.
Trim dead braches periodically.
‍
Note: Images are only for illustrative purposes, actual product and colour may slightly differ.