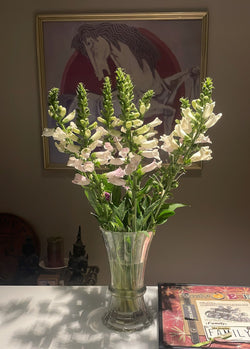 Foxglove
Foxgloves as a cut flower are absolute winners: tall, graceful, velvety stems, speckled fairy hat flowers.

Foxgloves are thirsty; give them water right away to prevent wilting. When you arrange Foxglove, the first step is to strip off the leaves from the bottom third of the stem. In a vase, you don't want leaves below the water line, where they will rot and turn yucky. Give each stalk an angled cut to increase the surface area (enabling it to drink more water).

Bent, crooked, and twisty foxglove stalks are useful because they will soften the lines of a floral arrangement and prevent it from looking too stiff.

As cut flowers go, foxgloves are heavy drinkers. Keep adding a litre of water to the vase daily; your arrangement will keep going strong. Handled correctly, the flower can have a vase life of over 7 to 10 days.
Note: Images are only for illustrative purposes, actual product and colour may slightly differ.