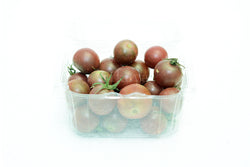 Tomato Black Cherry
Black Cherry has a deep, rich, satisfying tomato flavour. Combined with red and yellow tomatoes, it makes a dramatic contrast in a salad.
A cocktail tomato, its a unique, dark tomato, exceptionally high in anthocyanins. Anthocyanins are powerful antioxidants. It develops a dark purple pigment in its skin where exposed to direct sunlight. Green when unripe, purple-red when ripe, the 50 grams, cocktail-sized tomatoes have good flavor with 'plummy' overtones.‍
Note: Images are only for illustrative purposes, actual product and colour may slightly differ.